Actor has expressed interest in returning to play Obi-Wan Kenobi if standalone
film about the Jedi knight gets go ahead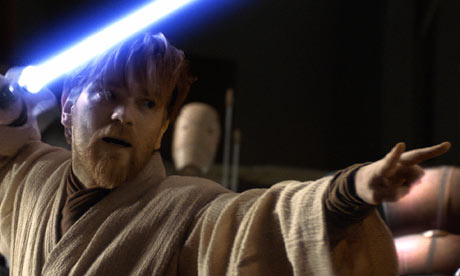 Return of the Jedi … Ewan McGregor wants to reprise his role as Obi-Wan Kenobi in Star Wars spin-off film. Photograph: HO/Reuters
Ewan McGregor
 has become the latest 
Star Wars
 veteran to 
express an interest
 in returning to the long-running space opera following the announcement of Disney's plans for several new films.
The studio, which bought rights to George Lucas's series in October for $4.05bn (£2.6bn), is planning a new trilogy of movies, along with several spin-off adventures centring on iconic figures from the original series that ran between 1977 and 1983. McGregor, who played Obi-Wan Kenobi in the prequel trilogy, which ran in cinemas between 1999 and 2005, said he liked the idea of a standalone film starring the Jedi knight in his wilderness years.
"I think it's a good idea," McGregor told MTV News, adding: "The only bit that I could get away with doing is after the last one I made, Episode III, before Alec Guinness, there's that period where he's in the desert.
"That might be my window, there, to tell that story. I don't know what he did in the desert. We could make up some stuff."
Obi-Wan is introduced in 1977's Star Wars as a hermit-like old man (played by Guinness) who has been living in exile for many years on the desert planet of Tatooine following the destruction of his order by the evil Empire. The story of how he got there has not yet been told, though it would presumably take some degree of fleshing out to attract audiences into the cinema for a full-length feature. It seems likely that McGregor's tongue lay firmly in his cheek when he concluded: "Could be quite exciting. I'd be up for it, for sure, of course!"
Earlier this week Frank Oz, the beloved puppeteer, said he would bewilling to voice Yoda once again for a rumoured spin-off film surrounding the diminutive green Jedi master
. Carrie Fisher has said she would be keen to play "Mrs Solo" in a reprisal of her Princess Leia role, and Mark Hamill has tentatively expressed an interest in picking up Luke Skywalker's lightsaber once more.
Han Solo, Yoda and Boba Fett are the characters rumoured to be getting spin-off films, two of which are currently being written by The Empire Strikes Back's Lawrence Kasdan and Sherlock Holmes's Simon Kinberg. Star Trek's JJ Abrams was last month revealed as the director who will take on Star Wars Episode VII, which is due in 2015. Toy Story 3 writer Michael Arndt is overseeing the screenplay for the debut instalment, which will be followed by sequels every two to three years.
Meanwhile, Star Trek veteran William Shatner has amusingly denounced Abrams for hopping ship to Star Wars. "He's being a pig," the one-time face of Captain James T Kirk told Movie Fanatic. "He's collecting the two franchises and holding them close to his vest.
"He's probably the most talented director of that ilk that we have, but he's gone too far this time," continued the 81-year-old Shatner. "I think of him as a buddy of mine, I've taken him out for sushi. I think it's time for JJ and I to have another sushi and let me put him straight."
Thank you "thegaurdian.co.uk
Authored by Ben Child
_____________________________–
Cheers
Will