Apple's 2014 iPhone
AT A GLANCE
Apple's 2014 iPhone is expected to include a larger redesigned form factor, with 4.7″ and 5.5″ diagonal screens. The 4.7″ model will be introduced first around September, with the 5.5″ model following later.
SPECS
Larger screen: 4.7″ and 5.5″
Sapphire crystal screen
Faster and more efficient A8 chip
Fall 2014 Release Date
THIS PAGE IS CURRENT AS OF 2 days ago
HIGHLIGHT RECENT CHANGES
What We Expect
Rumors about the next generation iPhone have been accelerating in recent weeks. The majority of iPhone 6 rumors have focused on the 
screen size
 of the device, which is expected to increase. The size of the iPhone's display grew from 3.5 inches to 4 inches with the iPhone 5, and with the next generation iPhone, the screen will grow even larger
Apple has been experimenting with a wide variety of screen sizes, with the most consistent rumors suggesting a range of 
4.7 inches
 and 
5.5 inches
, bringing the next iPhone in line with competing Android and Windows phones that have all adopted larger displays.
Apple even 
acknowledged
 in an internal presentation that consumers want phones with larger displays. Based on that evidence, it seems pretty clear the company is planning to address the segment of market that desires larger phones.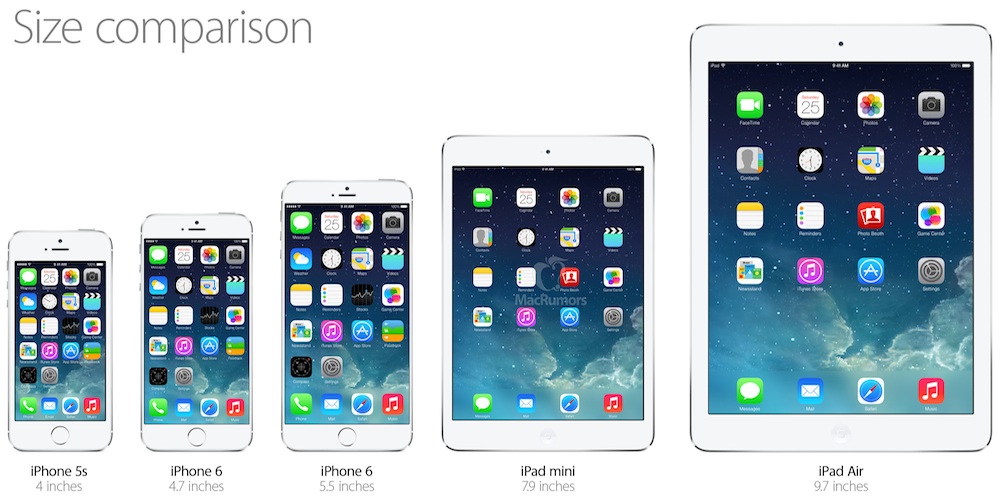 Rumored sizes of the new iPhone 6 compared to iPhone 5, iPad mini, iPad air
 Apple is 
expected
 to release the 4.7″ model around September of this year, while the 5.5″ won't be available until the very end of the year.
The iPhone 6 may also feature a 
durable sapphire display
 in at least some models for the first time, and rumors have indicated the larger iPhones may adopt a 
thinner chassis
.
In More Detail
Hints of a larger iPhone first surfaced way back in December 2012, when an analyst 
noted
 the existence of iPhone 6 prototypes with a screen size of 4.8 inches. Then in January 2013, a sketchy rumor suggested Apple would 
debut
 a 4.8-inch "
iPhone Math
" alongside the iPhone 5s, and for short period of time, larger-screened iPhone rumors became 
attached
 to the iPhone 5s and a 2013 release, with initial rumors
indicating
 Apple would 
launch
 both a smaller and a larger iPhone in 2013.
In February, larger iPhone rumors shifted from the iPhone 5s and 
solidified
 around the iPhone 6, which would not launch until 2014. It became clear that Apple's 2013 focus was a less expensive iPhone to go alongside its standard flagship offering, while 
2014 development would center around a bigger display
.
As focus shifted towards the lower cost iPhone, rumors of the larger iPhone 6 died down until June 2013, when 
Reuters
 reported Apple was testing 4.7 and 5.7 inch displays for two iPhones to be released in 2014. A July report from 
The Wall Street Journal
 confirmed that Apple was indeed looking into larger-screened prototypes for its next-generation iPhone.
In November 2013, 
Bloomberg
 also pointed to two iPhone releases in 2014, one with a 4.7-inch display and another with a 5.5-inch display. Notably, the site suggested the iPhones would incorporate larger displays with glass that curves "downward at the edges." While 
The Wall Street Journal
 has since refuted the claim suggesting a curved display for the next-generation iPhone, it has also pointed to a dual-iPhone lineup.
SCREEN SIZE
Rumors about the screen size of the next iPhone have varied quite a bit as Apple is reportedly testing a variety of different prototypes. All of the reports have indicated a size ranging from 4.7 to 5.7 inches, but have most consistently pointed to two distinct models: 4.7″ and 5.5″.
It is likely that introducing an iPhone in the range of 4.7 to 5.5 inches will involve increasing the resolution of the display, which will require developers to create new images and assets for their apps. When Apple switched from the iPhone 4's 960×640 display to the larger 1136×640 display in the iPhone 5, it was the first time Apple had changed the screen size on the phone since its 2007 launch.
Our competitors have made some significant tradeoffs in many of these areas to ship a larger display. We would not ship a larger display iPhone while these tradeoffs exist.Tim Cook – Q2 2013 Earnings Conference Call
Apple has been notably cautious about introducing new resolutions in order to minimize device fragmentation for app developers, but an increase in pixel count may be the only way for the company to introduce a much larger phone while retaining a Retina-quality display.
A report from DisplaySearch, which tapped sources in the display supply chain to analyze panel sizes and resolutions currently under development, suggested that Apple could be exploring a 4.7-inch 1600×900 with a 386 ppi screen and/or a 5.5-inch 1920×1080 with a 401 ppi screen.
But more recently, a reliable analyst predicted a 1334×750 (326 PPI) screen for the 4.7″ model and a1920×1080 (401ppi) screen for the 5.5″ model.
 DISPLAY TECHNOLOGY
Current iPhones use Low Temperature Poly Silicon (LTPS) technology, and Apple is likely to continue using that technology for the iPhone 6.
With the iPad Air and Retina iPad mini, Apple adopted Indium Gallium Zinc Oxide (IGZO) technology in order to create thinner displays that draw less power than seen with the amorphous silicon (a-Si) displays used on previous models, but LTPS already offers better electron mobility than IGZO and thus Apple will almost certainly continue using LTPS in its smaller iOS devices for the time being.
GLASS
Apple currently uses durable and damage resistant Corning Gorilla Glass for its iPhones, but reports have suggested that the company could switch to sapphire crystal for future displays.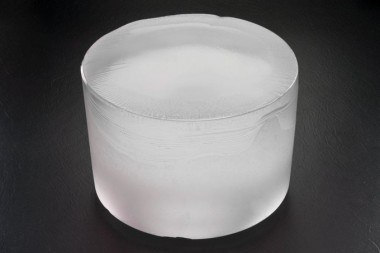 Sapphire boule
Sapphire crystal, which is used for small iPhone elements like the camera lens and the home button of the 5s, has historically been prohibitively expensive to produce in larger quantities, but Apple has recentlypartnered with GT Advanced to ramp up sapphire production.
With GT Advanced's technology and Apple's investment, it is possible that the company will be able to produce much larger quantities of sapphire crystal at a far lower cost, which could see Apple incorporating it into next generation devices.
In January of 2014, documents filed with the Foreign-Trade Zone Board indicated that Apple was seeking an "aggressive go-live timeline" for the launch of the sapphire plant in order to begin work on a "critical new sub-component" for Apple devices. While it's unclear what product the sub-component refers to, it could potentially be a sapphire crystal display for the iPhone 6.
During a February 2014 shareholders meeting, Apple CEO Tim Cook indicated the company's sapphire production facility was for a "secret project" he could not talk about, possibly hinting at an iPhone model with an ultra-durable sapphire screen.
Apple has reportedly begun a trial run for an iPhone using a sapphire display cover, with the company ordering 100 of the devices from its assembly partner, Foxconn.
Recently revealed documents indicate GT Advanced has purchased 518 sapphire furnace and chamber systems and ordered another 420. With the machines, the Mesa, Arizona sapphire plant has the ability to produce between 100 and 200 million sapphire displays, enough for its entire line of devices. For reference, Apple sold approximately 150 million iPhones in 2013.
Analyst Ming Chi Kuo indicates that due to production shortages with Sapphire screens, only certain high end models (64GB 5.5″ iPhone 6) may use the new glass to start.
DESIGN
Initial rumors suggested the iPhone 6 might have a curved display, but more recent rumors indicate the device will continue to have a flat screen much like the iPhone 5s.
Advancements in LED backlighting may allow Apple to design a thinner, lighter iPhone 6. Apple is reportedly shifting from an 0.6mm LED backlight to a thinner 0.4mm model, giving it a bit of extra room to work with. The increased size of the device (or multiple devices) may also give Apple additional room to spread out components, allowing the company to reduce device thickness even further.
A recent report has indicated the upcoming iPhone could take on a design inspired by both the iPhone 5c and the current iPod nano, adopting the rounded back edges, colorful casings, and button designs of the iPhone 5c with the anodized aluminum body of the nano.
Schematics for a 4.7 and 5.7-inch iPhone surfaced in March, from Japanese magazine MacFan. Said to depict the "iPhone 6c," the schematics showed a flat, bezel-free device with several questionable design elements, including a power button located on the left-top of the device and single LED-flash not in line with the existing pill-shaped True Tone flash.
More sketchy iPhone 6 images were published a week later on Chinese microblogging site Weibo, showing a device with a protruding camera lens and a round flash. The legitimacy of both the images and the schematics remain questionable at this time.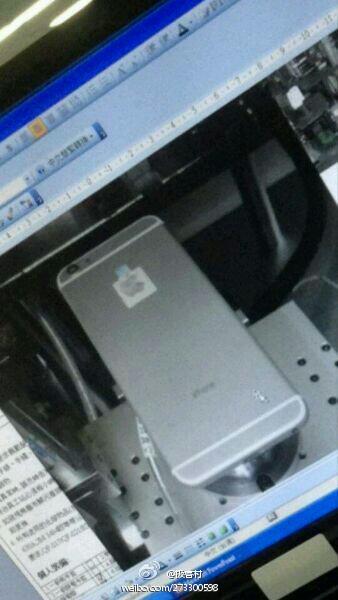 PROCESSOR UPGRADES
The iPhone 5s incorporates a 64-bit A7 28-nanometer chip manufactured by Samsung. Apple's iPhone 6 will reportedly incorporate a 20-nanometer A8 chip from TSMC, which will be both smaller and more energy efficient. Samsung will continue to be involved in the production, however, helping to alleviate some of TSMC's manufacturing load.
The A7 chip marked a 31 percent improvement over the A6 in the iPhone 5, and it is likely that the leap to a 20-nm A8 chip will offer similar increases in performance. The A8 chip is rumored to include both a quad-core 64 bit processor and quad-core graphics and production is said to be underway as of February of 2014. It's believed, however, the A8 may only contain 1GB of RAM, the same as the A7.
Apple recently extended its licensing agreement with Imagination Technologies, the company that provides Apple with the PowerVR graphics and video hardware used in iOS devices. It is likely that the next-generation iPhone will continue to feature the Series6 graphics used in the current iPhone 5s, though future devices may receive the Series 6XT PowerVR GPUs which offer a 50 percent benchmark performance increase compared to previous generation cores.
CAMERA ADDITIONS
A recent rumor has suggested that the iPhone 6 may continue to use the 8-megapixel sensor found in the iPhone 5s and the iPhone 5c, while adding other camera improvements.
Apple's iPhone 4s and iPhone 5 also used the same 8-megapixel sensor, but Apple significantly improvedcamera quality in the iPhone 5s through an increase in pixel size, a larger aperture, a new "True Tone" dual-LED flash and software enhancements, and it is possible the company will follow the same camera improvement strategy in the iPhone 6.
Optical Image Stabilization (OIS) is one way the camera in the iPhone 6 may be improved, and there are reports that will integrate OIS into the iPhone 6 and Apple has been working on striking a deal with InvenSense, a company that manufacturers an OIS gyroscope.
Optical Image Stabilization uses motion-tracking in order to compensate for device shakiness, allowing for sharper photos and videos.
OTHER FEATURES
Apple's iPhone 6 is likely to continue to feature the Touch ID fingerprint sensor first found in the iPhone 5s and a recent rumor indicated that TSMC will produce fingerprint sensors for the device.
Other sensors may be bundled into the iPhone 6 to bring it on par with smartphones from competing companies like Samsung. One analyst has indicated that the iPhone 6 could add a pressure, temperature, and humidity sensor, a feature that would bring the iPhone in line with the Samsung Galaxy S4, a phone that includes similar atmospheric sensors.
According to another analyst report, Apple's next-generation iPhone may also support the 802.11ac Wi-Fi standard that first began appearing in Apple products in 2013. 802.11ac, or "Gigabit" Wi-Fi, offers speeds up to three times as fast as existing 802.11n wireless networks, reaching speeds over 1 Gigabit per second. While 802.11ac technology was not quite ready for the iPhone 5s and the iPhone 5c, Apple Wi-Fi chip supplier Broadcom has recently come out with a new 802.11ac Wi-Fi chip for smartphones.
IPHONE 6C?
With the introduction of the iPhone 5c alongside the iPhone 5s, Apple bifurcated its iPhone lineup for the first time. iPhone 6 rumors suggest that Apple will continue with the dual iPhone strategy, producing the iPhone 6 in two different sizes. The Wall Street Journal in January indicated that one iPhone will come with a screen size above 4.5 inches diagonally, while the second will have a display bigger than 5 inches diagonally.
Two lines and two sizes will possibly allow for Apple to continue with its current pricing strategy, offering a full-priced flagship device, a mid-tier lower-cost device, and previous generation devices at an even lower cost. Current rumors suggest that Apple will not continue producing a plastic iPhone, and will instead use metal casings for both phones.
A March report from Reuters suggested that while Apple is indeed working on two iPhones, the larger 5.5-inch version might not be ready for a fall launch due to issues with in-cell display production technology. The 4.7-inch iPhone 6 is said to be entering mass production, with the 5.5-inch version following several months later. KGI Securities analyst Ming-Chi Kuo has made similar claims.
IOS 8
Apple's iOS updates generally happen alongside iPhone launches, which means the iPhone 6 will undoubtedly ship with iOS 8. Not a lot is known about iOS 8, but some rumors have pointed toimprovements to Maps and a possible Siri API. While we have seen some iOS 8 activity in our logs, usage remains low, suggesting that development of the operating system is still in the early stages.
A January rumor suggested that iOS 8 will integrate with the upcoming iWatch and will have a heavy focus on health-related applications. Apple is said to be introducing a "Healthbook" app that will track various data points including blood pressure, hydration, heart rate, and other statistics like glucose levels. It may also include enhanced mapping functionality.
Because iOS 7 introduced a major redesign, iOS 8 is said to retain largely the same look, with Apple focusing on adding additional features to the operating system.
CONCEPT IMAGES
On February 12, an image of what was supposedly an iPhone 6 prototype surfaced, depicting a thin, iPod-touch style design with rounded corners and a 4.7-inch display. It was later discovered to be a rendering rather than an actual product, but the concept image does give an idea of what an iPhone 6 might look like.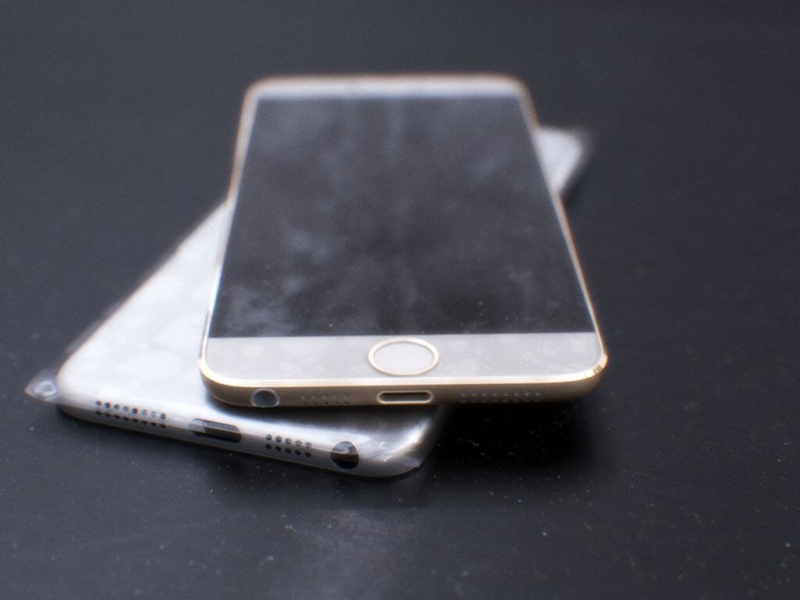 We commissioned a second rendering based on recently leaked schematics that depict a similar design, with an edge-to-edge display and an ultra thin chassis.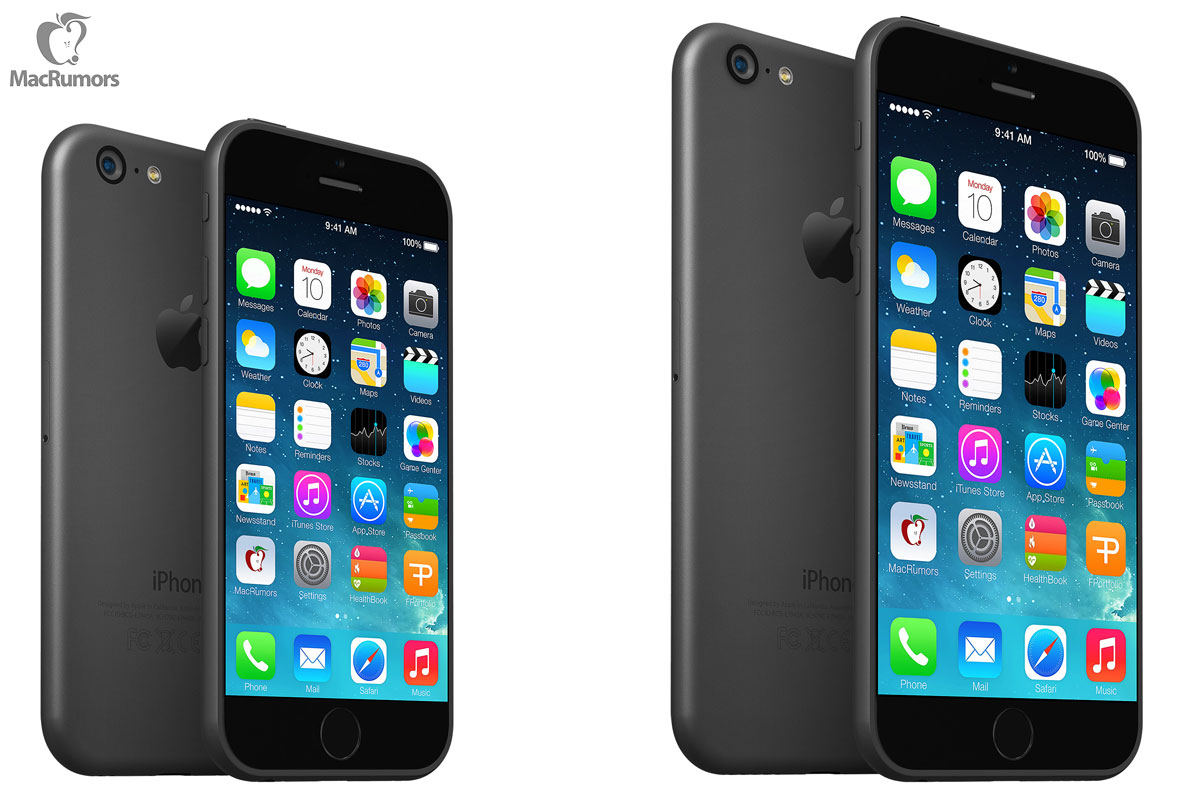 RELEASE DATE
According to a recent report from Japanese business site Nikkei, the Apple may introduce its larger-screened iPhones as early as September, which is consistent with past year's iPhone releases. The 4.7″ iPhone is expected to hit the market first around September while the 5.5″ won't be available until the very end of the year.

iPhone 6 Timeline

MacRumors attracts a broad audience of both consumers and professionals interested in the latest technologies and products. We also boast an active community focused on purchasing decisions and technical aspects of the iPhone, iPod, iPad, and Mac platforms.
Advertise on MacRumors