Apple has revoked Facebook's enterprise developer certificates after sideload violations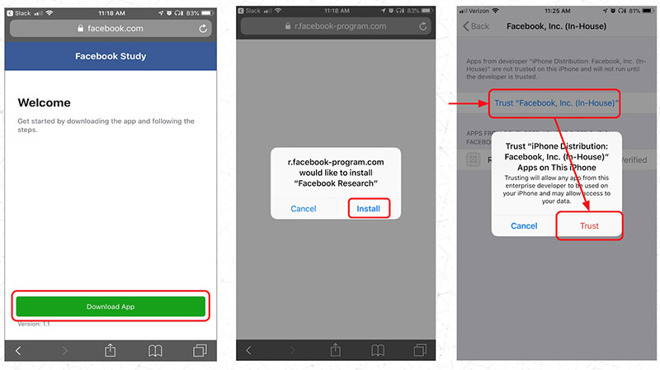 Source: TechCrunch
It was revealed yesterday Facebook paid users $20 to sideload a VPN onto their devices, allowing the social network to monitor what participants aged 17 to 35 did online. Claimed to be a "social media research study," the Facebook Research iOS app took advantage of Apple's Enterprise Developer Certificates to allow the apps to be distributed separately from the main App Store, as well as effectively providing root access to a user's device.
Since the discovery of the activity, The Verge reports access to early beta versions of Facebook, Instagram, Messenger, and other apps used internally are no longer able to launch on employee iPhones. The block also applies to other employee-specific apps not used by the public.
AppleInsider has been told by sources inside the company not authorized to speak on behalf of Facebook, that all the internal iOS apps used by employees are nonfunctional, including messaging, pre-release versions of consumer apps, file management, transportation facilitation, and other in-house utilities.