Originally posted by thebleachreport.com
Sent by Anthony Gismondi (Coach @AnthonyGismondi)
What a great breakdown of the game from a tactical perspective!
Thanks G-Money!
___________________________________________
By Sam Tighe, World Football Tactics Lead Writer
Uruguay propelled themselves into the knockout stages of the FIFA 
World Cup 2014
 on Tuesday by beating Italy 1-0.
The Azzurri dominated most of the game but saw Claudio Marchisio sent off for a bad tackle in the second half. 
Luis Suarez
 then bit Giorgio Chiellini, and Diego Godin scored from a resulting corner.
Formations & XIs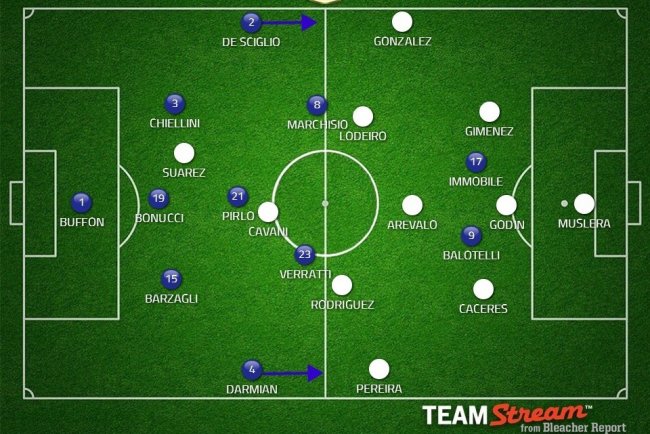 Italy reverted to their tried and trusted 3-5-2 formation, bringing Leonardo Bonucci into the back line, playing Mattia De Sciglio at left-wing-back and drafting in Ciro Immobile to play up front.
Uruguay also opted to go 3-5-2, with Martin Caceres playing his third different position (CB) in three games and Jose Maria Gimenez retaining his place in the back line.
Dominant Italy
Italy dominated the opening exchanges, as despite the formations matching up near-man-to-man, Italy's ball-player's trounced Uruguay's in space.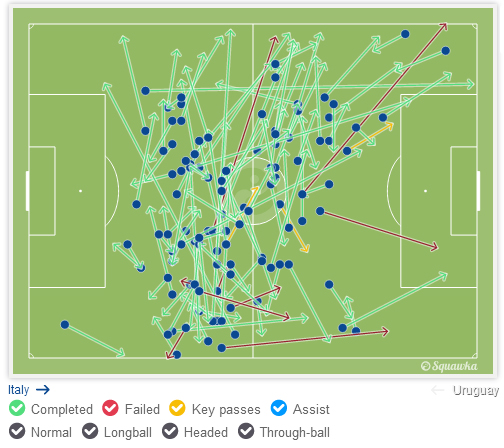 Andrea Pirlo and Marco Verratti saw plenty of the football inside the first 15 minutes to ensure the Azzurri got off on the right foot, and La Celeste began dropping very deep.
Marchisio was something of an afterthought in the passing game, largely ignored by his teammates, but the wing-backs came forward and tried to link play in the final third.
Cavani
It didn't take long for Edinson Cavani, the deep-lying forward to Luis Suarez's poacher, to drop in and begin to hassle Pirlo and Verratti on the ball.
Pirlo played the deepest and therefore entered the same zones, so Cavani's attention began forcing him into the left- and right-back roles—similar to how he ended up operating against Costa Rica.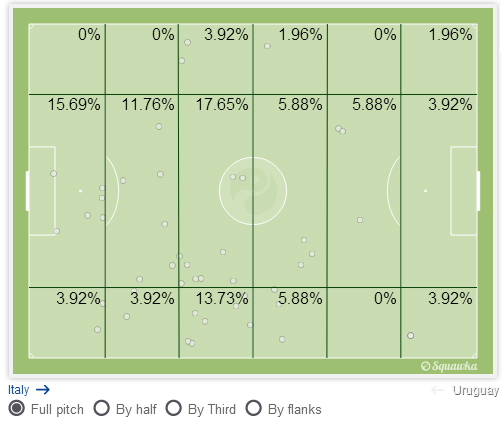 If he ventured forward, he was tracked; if he slipped it to Verratti, Cavani would sprint over and occupy him.
While Uruguay's low-block made it impossible for either playmaker to pass over the top of them, Cavani dropping to within 40 yards of his own goal left Suarez alone with two hulking centre-backs.
The team looked very, very disjointed.
Italy's Striking Conundrum
Despite the possession dominance, service into Italy's striking corps was poor.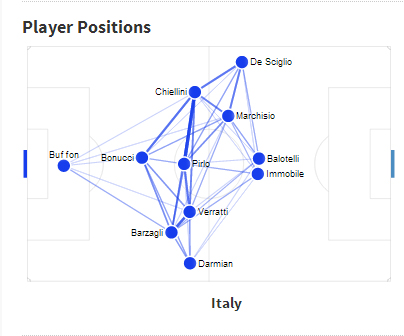 HuffPost's World Cup Dashboard

The passing graph above shows Pirlo and Verratti saw plenty of the ball, but how many of their passes reached the final third successfully? Very few, it seems, and only two made it into (the outskirts of) the box.
The reason for this was the personnel on the pitch: Cesare Prandelli fielded two strikers who are, for most intents and purposes, typical No. 9s. They like to sit on the shoulder, breach the box and challenge centre-backs one vs. one.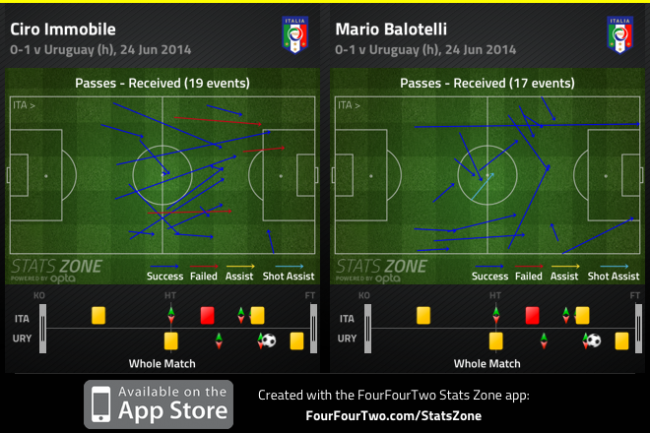 FourFourTwo.com/StatsZone
Mario Balotelli and Ciro Immobile both did the same thing, made the same runs and made the same mistakes for the first 45 minutes. Neither came short to receive the ball between the lines and create, even though one early Balotelli vs. Arevalo Rios tangle saw the Azzurri man come out the better.
Italy lacked a link man.
Adjustment
Balotelli withdrew at half-time for injury purposes, but in reality, it did Prandelli a massive favour.
It allowed him to bring on Marco Parolo, switch to a diamond and place the sub at the tip, joining play from Immobile to Pirlo with good running and a deft touch. Verratti and Marchisio moved into slightly wider roles, carrying the ball and passing neatly to build attacks.
It immediately looked more promising, but the work Prandelli did to improve his side's flow and attacking presence was undone by Marchisio's studs-up, red-card challenge. They converted to a 5-4 (diamond), with Immobile now at the tip dropping deeper and no one occupying Uruguay's defenders.
If Immobile is anything, he's a poacher; having him dropping to hold the ball and drag his side up the field is not a good plan.
Eventually, Diego Godin broke through on a set piece, and the Azzurri lacked the firepower, energy and numbers to bite back.
By:By Sam Tighe, World Football Tactics Lead Writer 
Thank you thebleachreport.com
___________________________________________
Cheers
Will