Allegedly Floating Around Asian Supply Chain
Apple is working on a multitude of prototype projects ranging from the expected to the fantastical, according to Jefferies analyst Peter Misek, who suggests the prototypes are "floating around" in the Asian supply chain. In a research note to investors, Misek describes several prototype products, including an iTV with 4K, gesture control, and voice control, along with an ARM-based touchscreen MacBook Air, and an "OLED iPhone that unfolds into an iPad mini."
In contrast to investors' fears, the supply chain thinks Apple's innovation may be accelerating. With more than the usual number of prototypes floating around, here are some highlights (with the caveat that Apple might be purposely leaking to confuse competitors): 5.5″ OLED phone with 2k >660ppi display; iTV with full gesture control, voice control, and 4K; touchscreen MacBook Air running on A8; 4″ OLED iPhone that unfolds into an iPad mini; smartwatch prototypes including curved bangle-type and curved-screen; and wearables including health care appliances and payment authentication modules.
While some of these products, such as the smartwatch prototypes sound plausible, some, such as the folding iPhone, range into the almost-unbelievable.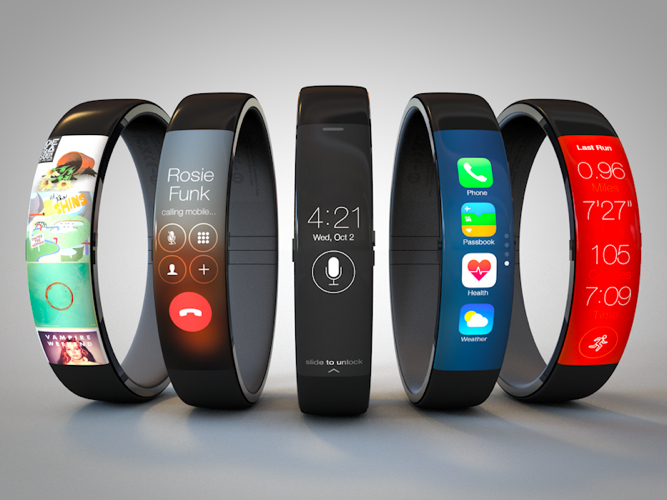 Curved bangle-style iWatch concept by Todd Hamilton
Given Apple's commitment to secrecy, it seems unlikely that many of these described prototype devices are available in the Asian supply chain. Apple maintains a highly exclusive design lab for its prototype products, which are likely produced in-house or in very small quantities by manufacturing partners, leaving the legitimacy of the "prototypes" discovered by Misek in question.
Apple has been rumored to be working on Apple television set prototypes and experimenting with ARM-based Macs, but it is unclear whether these type of products will make it out of the prototype stage.
Peter Misek has been frequently incorrect with his predictions, but occasionally, one of his reports is accurate. He was one of the first analysts to point towards early iPhone 6 prototypes in a 4.8-inch size, but he also incorrectly predicted several elements of the iPhone 5s and has long championed an Apple iTV that has not materialized. He has previously suggested Apple planned to merge iOS and OS X, which was not true, and he has predicted Apple signed deals to create an iTunes Netflix competitor, which did not happen.
In his research note, Misek also suggests that the iWatch is ready to go into full production and could thus be announced at any time, but this contrasts other reports that suggest the device will begin production in July. Misek believes the rumored 5.5-inch iPhone, which is said to be somewhat delayed in comparison to the 4.7-inch version, will launch at the earliest in November with a new in-cell display coating technology.
______________________________________________________
Thank you macrumors.com
Cheers
Will